Guided tours with transport including
Riding in the nature
Transports

from Kemi city on weekdays (Mon-Fri) and from Rovaniemi city on weekends (Sat-Sun)

Safety wear and winter wear
Coffee or tea after the ride (for 2 h riding tours or longer)
175 € per person / 1 h riding and transport
285 € per person / 2 h riding, transport and a small drink
Minimum 2 participants. If there's only 1 participant 250 € is the minimum price including the transport.
Riding prices excluding the transport
1 hour ride 50 €/person
2 hours ride 100 €/person
Rent a car and drive yourself to the stables located about half an hour drive away from Kemi.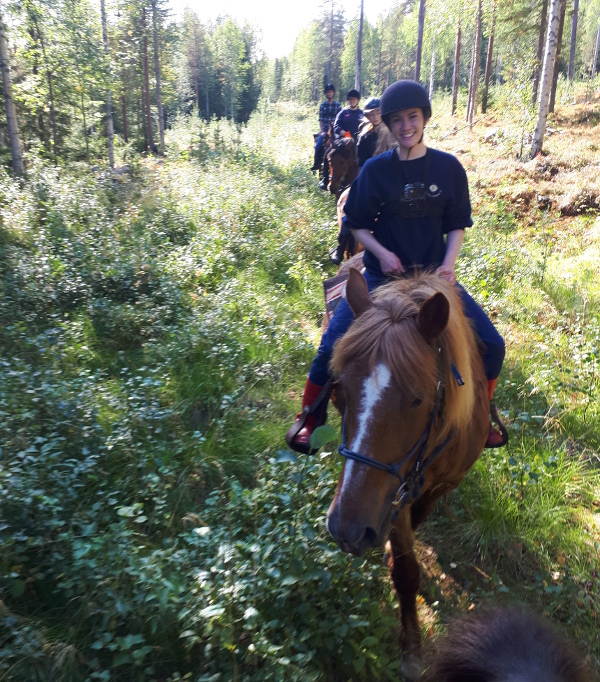 An experienced local guide is at your service during the whole trip. You will get to loan safety wear and also winter wear if needed.
In the beginning we'll spend a moment to learn how to control the horse. If you buy an 1 hour ride then the riding time is 1 hour in the forest.
Coffee or tea / juice is included in the longer rides (2 hours or more). Overnight trips include sauna services as well as daily meals.
You can also get driving instructions and drive to the stables yourselves by your own car or by a rented car. Notice that we have 3 different stables in 3 different addresses, so please ask beforehand by message in which stables your ride is prepared.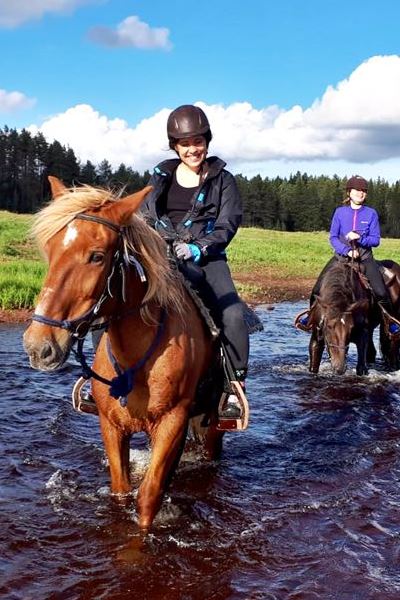 When and where it's available?
The main stables in Simo are open by request from Monday to Friday between 17.30-19.30 and on weekends on Saturday mornings or on Sunday afternoons.
Every other weekend we can arrange over night trails and longer horse camps in Simo or in other locations in Lapland (Rovaniemi or Pello) by request.
Transportation can be ordered for the weekends or from Monday to Thursday evenings for the riders after 16.00.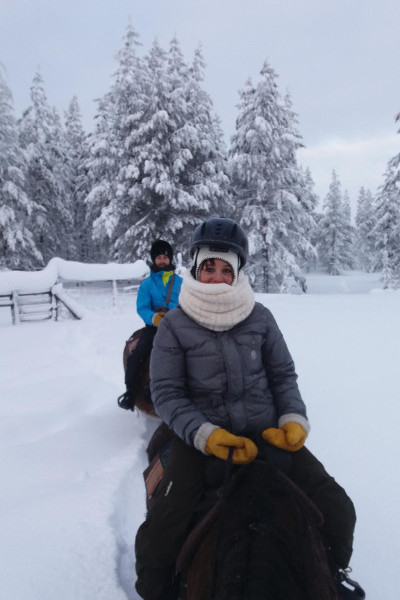 Either you are travelling in summer or winter, there is so much you can experience in Lapland.
Maybe you would like to see the northern lights or the midnight sun? Eat picnic by the fire in the nature? Have you already bathed in Finnish sauna?
Combine our other services with the trail ride and make your trip even more unforgettable.
Small groups
Groups of 5-9 persons should rent a car or order a taxi. The cost for two-way will be around 240 € with the each taxi of Tuulia's colleagues. Otherwise Tuulia can rent the bus or minibus from another cooperation company and drive with about 2 €/km.
Bigger groups
Bigger groups for extra cost. The bus rental and the diesel costs variate between 400-800 € + 220 € for the driver.
Give us a call or send e-mail to get more information about your next adventure!
E-mail
tuulia@arcticnature.fi